Losing Ground in Public Opinion:
"I'm not satisfied when I see men like Jimmy Hoffa - in charge of the largest union in the United States - still free." --
JFK, first Kennedy-Nixon debate, 1960
Increase in government employment, though not at the federal level
:
Public and private sector
(also see
page 40
of Cigler)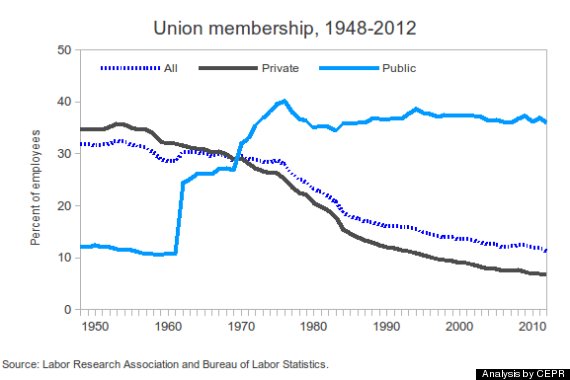 About even share of union membership
By state
(See DiSalvo, p. 42):
Top organizational contributors since 2002 (compare to DiSalvo, p. 58)
Eitan Hersh writes at FiveThirtyEight:
Most states — 44 out of 50 — hold some state and local elections off the federal cycle.
...
Why do Democrats and Democratic-aligned groups prefer off-cycle elections? When school boards and other municipal offices are up for election at odd times, few run-of-the-mill voters show up at the polls, but voters with a particular interest in these elections — like city workers themselves — show up in full force. The low-turnout election allows their policy goals to dominate.
Nurses as political champions